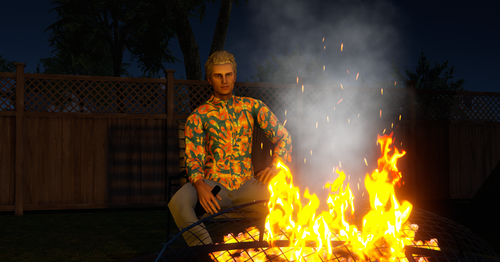 Hey guys!
Here's House Party 0.8.7! This includes a fully-voice acted conclusion to Amy's story as well as a fully voice-acted and finalized version of Date Night With Brittney.
From here, we will be working on a new Valentine's Day story that will be released on the big day as a bonus story to all players. After that, we will begin work on 0.9.0 which will include a revamping of Ashley's story-line, and the addition of a full story-line for Ashley that will open more intimate doors with her than already implemented.
As always, thank you for your support, and enjoy the release!
CHANGE LOG:
Optimized and Enhanced Katherine's model
Added Brittney voice acting to Date Night With Brittney
Added Katherine voice acting to Original Story
Combat system tweaks
Fixed an issue where sex could be interrupted by other story events
Fixed an issue where sometimes gravity wouldn't be applied to some animations
Fixed an issue with Ashley walking away from the spare room during "Humiliate Ashley" quest
Fixed an issue where some surfaces were see-through
Fixed an issue where strafing right would cause the player to move forward-right
Fixed an issue with sounds sometimes continuing longer than they shoud
Updated Instructions page
Added Discord link to main menu
Fixed an issue with NPCs sometimes not getting to important locations
Fixed an issue where Vickie gets her panties back after you've taken them if she leaves the hot tub
Fixed an issue where triggering a dialogue from the command console breaks the console
Lighting Updates
Added toggle switches to Main Menu to turn off real-time lights and shadows
Fixed some issues with translation of stories other than the Original Story
Optimized and Enhanced Rachael's model
Added Amy voice acting
Added Brittney voice acting
Added Madison voice acting
Added Ashley voice acting
Added Patrick voice acting
Added new Amy sound effects
Added new Brittney sound effects
Madison can now catch you snooping through her phone
Fixed an issue with Derek freezing after removing his shirt
Fixed an issue where you could dare Brittney or Amy to take off clothes they already removed
Fixed an issue with clothes disappearing when looking at a character from a certain angle.
Fixed an issue with NPCs not getting re-dressed after moving from one hot tub seat to another
Added animations for sitting down and standing up
Fixed an issue where dialogues would not play
Fixed an issue with the player and NPCS sometimes floating above hot tub seats
Added another column to the inventory "Use With/Give" screen (now supports up to 24 items)
Fixed an issue where the player couldn't take his clothes off in combat
Corrected a bunch of typos
Optimized and Enhanced Amy's Model
Amy underwear redesign
Added alternate Amy underwear design
Completion of Amy's Scavenger Hunt story in the Original Story (Path 2)
Bug fixes and tweaks to Slumber Party at Madison's
Bug fixes and tweaks to Date Night With Brittney
Tweaked combat mechanics
Madison now beats the shit out of Patrick when you tell her he's stealing
Added 2 new scavenger hunt items to Amy's story in the Original Story
Reduced clipping through couches and chairs during talking animations
Adjusted graphics and shadows quality to be more appropriate for quality level selected
Shadow enhancements
Added "Shadows" toggle (Only toggles real-time shadows) to UI Menu for additional user-level performance tweaks
Continuation of Amy's Story (Path 1)
Added new Original Story quest: "Chasing Amy"
Updated Story: Date Night With Brittney
Updated Madison's Model
Females now cover and try to hide themselves if they are naked around others they are uncomfortable with.
Moved the coffee to a more reasonable location
Updated Combat Mechanics
Female Combat Mechanics
Smoothed a lot of the animation transitions over
Fights now move along much more quickly
Tamed NPC emotes so they are less pronounced when speaking, and not have varying levels of expression
Added more real-time lights
Lighting Tweaks and Updates
Files
House Party 0.8.7 Windows 64 Bit
1 GB
Feb 03, 2018
House Party 0.8.7 Windows 32 Bit
1 GB
Feb 03, 2018