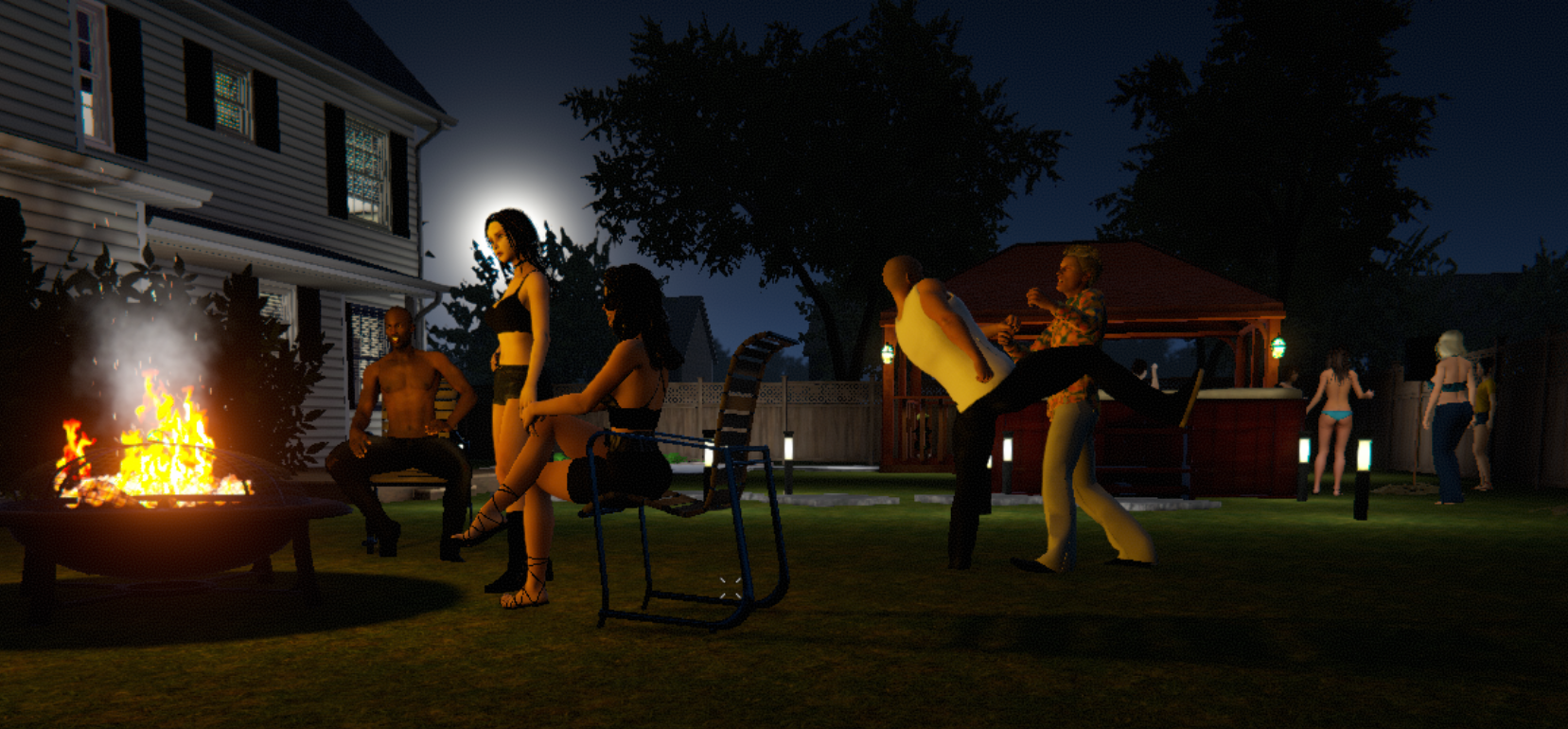 Hey Guys! I am pleased to announce the stable release of House Party 0.8.3!
This is a huge update with a great new quest, upgraded mechanics, new animations, holiday decorating, model makeovers, bug fixes, and lots of polishing! First things first, we added the new quest "Scavenger Hunt with Amy" which is far from a linear quest, in fact there's more than one way to get a couple items which may surprise and shock you! You will notice that select areas of the house have upgraded lighting that flickers and moves dynamically, and the game as a whole has new lighting that plays well over the NPC's and makes it a bit easier to see in the backyard. The player will also experience much better mechanics and feel with combat and more debaucherous acts! Vickie, Brittney, Ashley, and Stephanie all got model makeovers which not only look great but the optimization will also help the game run better on less robust systems.
Please reference below for a comprehensive list of updates with this build!
Happy Holidays and Happy Partying!!
P.S. Many of you may have seen information out there about the upcoming Date Night with Brittney Story. We have decided that we want to tweak and polish it a bit more before releasing it to you, but you should expect it with the next release in January!
0.8.3
( Stable Release 12/22/17)
Lighting Updates
Brittney model tweaks
Fixed some story bugs and inconsistencies
Fixed some story typos
Save and Load game menu now pauses the game
Fixed the way some inventory items display in the inventory
Fixed a number of regression bugs from the path finding update.
Optimized and fixed some combat issues
Added a "Stephanie doesn't want that right now" message when trying to give Stephanie the wine too soon.
Fixed an issue where you sometimes couldn't compliment Stephanie
Fixed an issue where you couldn't repeat Frank's intimate scene with the player
Fixed an issue with Brittney following Stephanie around
Fixed an issue with the crosshairs not being visible after a loaded game
Fixed an issue with some sound effects not obeying the master audio slider
Looped sound effects now pause when the game is paused (not the music though, sorry!)
Fixed an issue where the player would be transported to the living room when starting cunnilingus with Stephanie regardless of where he is
Fixed an issue with Frank not walking back to his chair sometimes
Added censor bar offsets for certain sex acts that have angles that show your junk
Bolted down a few more intractable objects so they don't get lost, causing the game to break.
Modified "WarpTo" to warp in front of objects, so there's not a chance to accidentally get stuck when using console commands or the custom story creator.
Updated Brittney model
Added Brittney Voice Acting
Added Derek Voice Acting
Added Amy Voice Acting
Added Stephanie Voice Acting
Added Frank Voice Acting
Added Derek Voice Acting
Added Patrick Voice Acting
Added Rachael Voice Acting
Added Madison Voice Acting
Added Ashley Voice Acting
Updated AI for motion, pathing, and surrounding area awareness
Fixed some issues with Amy's story
Enhanced Lighting in select areas
Fixed some objects disappearing when you get too far away from them
Fixed some typos in various stories
Fixed a bug where you can take Patrick's Merlot out of his hand
Fixed lines referencing Frank's "table"
Made Ashley's Top more easily accessible
Fixed "Initializing…" message on the main menu never going away
Fixed an issue with a save game error
Fixed an issue where Patrick stops roaming after he sobers up
Fixed an issue with Frank not walking back to his chair after some interactions
Fixed an issue with getting knocked out with the radial menu open breaks the game
Re-worked audio/music sliders
Fixed lip syncing so that it works well regardless of the audio slider setting
Fixed an issue with the liquor cabinet not opening sometimes
Smoothed mouse movement and fixed issues with frame drops
Fixed an issue with the dialogue closing when asking Derek where to find a bottle of water
Aligned cunnilingus better
You can no longer ask Madison about Brittney after she leaves the study
Updated Amy's "Original Story" Story
Updated Lighting
Added Light Probes for Transitional Lighting
Added Christmas decorations
Fixed an issue where the Game Menu wouldn't come up after a fade-out
Reworked the mouse movement, resulting in a smoother experience
Reworked some v-sync issues that were causing some NPCs to not move during sex scenes
Fixed an issue where characters would no longer look at you when talking after a game reload
Fixed an issue where the Merlot could be drank from outside the player's inventory
Fixed issues with OSX crashing, freezing, and stuttering
Fixed an issue where girls would put their bathing suits on to get in the hot tub even if they were already bottomless
Added "Scavenger Hunt" quest
Updated Amy's "Original Story" story
Updated Vickie's model
Updated Stephanie's model
Updated Ashley's model
Added a mechanism where characters can now catch you stealing
Fixed an issue with input lag
You can now turn your head up to 120 degrees while sitting and during sex acts
Bringing up the Game Menu now pauses the game
Added bushes to the back yard
Game now comes bundled with latest story in case it can't reach the server for updates
Various performance tweaks
Files
House Party 0.8.3 Windows 64 Bit
1 GB
Dec 22, 2017
House Party 0.8.3 Windows 32 Bit
1 GB
Dec 22, 2017